Let us give you a peek into the "wild" side of Disney's Animal Kingdom.  Disney's Animal Kingdom Lodge is an African lodge-style resort with 4 lush savannas that over 200 hoofed animals and birds call home.   The Resort offers authentic African-inspired architecture and the kraal African-village landscape design—a semi-circle design popular in Africa which offers expansive views of the surrounding savanna and its many animal inhabitants.  Thatched ceilings, large beams, hand-carved African themed furnishings, real African artifacts and expansive views of the wildlife across the back of the lobby.  There is also a fireplace in the lobby for a cozy atmosphere and surrounded by one of the largest African Art collections in the United States.
Upon check in we were excited to test the new MyMagic+ bands which are only currently available to Disney Resort guest at Walt Disney World in Orlando, Florida.  Prior to arrival we had pre-selected the colors for each of us.   The bands have many exciting benefits and we were able to book all of our FastPass+ attractions and entertainment experiences as well as dining reservations.  The MyMagic+ bands worked perfect and are incredibly efficient.  You can open your room with your magic band as well and no longer have to keep up with a room  key.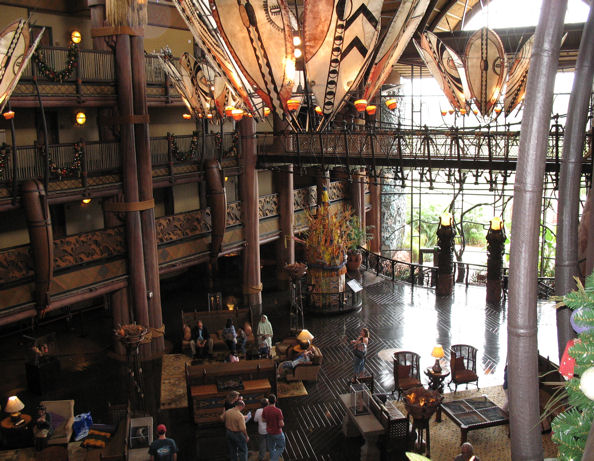 We were so happy to have an Arusha View!—  Our room offered an up-close glimpse of the animals and a panoramic view of the sprawling grounds. The children had bunk beds with a view of the animals.   In addition to animals, thousands of indigenous African shrubs and grasses—including the most recognized canopy tree of Africa, the copperpod—paint a picture reminiscent of the unspoiled African grasslands.
Disney Animal Kingdom Lodge ask each guest to please help recycle.   The letter ask each guest to put all beverages, cans, plastic bottles and newspapers  in a recyclable bag which is enclosed for each guest room.
Our children were selected to be honorary guests for the Day.  A special Disney guide came to our table and his name was Sipho.  Sipho was from Durdain, Africa.  He first gave our children flags from South Africa and African instruments as he sat down with them.  They were excited to talk to Sipho because we are planning a trip to Africa in the near future.   Sipho told us to start our vacation in Cape Town.  We enjoyed listening to Sipho as he told us about the Elephant Sanctuary which is about a 2 hour drive and if we have more time head along the coast up to Kruger National Park where there is scenic beauty and where we can experience the ultimate African Safari.
The next day we relaxed in the Uzima pool, an 11,000-square-foot zero-depth entry pool that offers a 67-foot-long slide and surrounded by large canopy trees and lush landscape.
The Mara restaurant was named for a river flowing through Kenya and Tanzania.   The Mara serves African stew, pitas, half-chicken dinners and more.  We also found the Zebra Cupcakes and, of course we could not refuse the Zebra themed cupcakes!
The Animal Kingdom Lodge also offers a fun educational center for children called Simba's Clubhouse.  It is supervised for children ages 3-12.  The activity director will read stories, sing African songs and more.  The activity center gives parents free time while the children are having a great time as well.
Savor authentic African cuisine at the Resort's 2 award-winning restaurants, Jiko – The Cooking Place and Boma – Flavors of Africa.  Our children loved Boma and were able to try different flavors from Africa.
At around 9:45 P.M. we took a night safari.    A guide will ride you along the safari for a great family adventure with night goggles.   It's a quiet tour of course but a really fun and exciting tour to see the wildlife.
We definitely will be back for another adventure at Disney's Animal Kingdom!
Book Animal Kingdom Reservations:  Call, Fill out Get A Quote form or Tweet to us!  We are also available on our Twitter page to take your reservations and plan your next Vacation.  Tweet #BookTweetTravelers to @TweetTravelers to initiate the conversation or call us at 1.888.551.7077.
Location and General Information
Disney's Animal Kingdom Lodge is located in the Disney's Animal Kingdom theme park area.
Disney Animal Kingdom Conservation and Wildlife
Did you know?
Guests can learn more about the elephants and bees conservation project, and many other conservation projects supported by Disney, when they visit Rafiki's Planet Watch at Disney's Animal Kingdom.
The Disney Worldwide Conservation Fund (DWCF) has supported Save the Elephants and its elephants and bees project since 2000. Since its inception, the DWCF has provided nearly $1 million in funding to protect African elephants.
Disney Nature Gallery – http://nature.disney.com/disneynature-gallery
For More Information:  If you would like to make a Disney Reservation  or have your next vacation planned for you, please contact Teri Morin, founder of Tweet Travelers or Tweet To us at @TweetTravelers.